Details
Paperback: 228 pages

Publisher: Sinolingua London Ltd; 1 edition (Sept. 2014)
ISBN-13: 9781907838064
---
Chinese GCSE volume 3 Student's Book is the last book of Chinese GCSE series. It's an ideal preparatory guide for students to get ready for their GCSE exam and it also can make the great transition to AS Level.
Every unit is clearly set out by GCSE topic, which is useful for students reviewing and deepening their vocabulary, grammar and sentence pattern.
Speaking, listening, writing and reading exercises are mixed together in each unit which is helpful in maintaining the interest of the students. Further, there are lots of practical exercises that follow the form of real GCSE exam, such as, Essay Plan Form, helps students prepare for the writing assessments.
Lively photos and illustrations make every lesson interesting. More real photos have been used in the volume 3 to convey to the students what everyday life is like in China.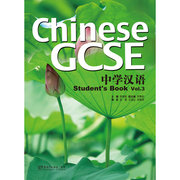 You may also be interested in the following product(s)