Details
---
Friends is a set of Chinese graded readers for non-native Chinese students, which can be used both in and out of the class for readers of all ages.
This book is written for adults, suitable for students whose Chinese proficiency reaches New HSK Level 5 and who have mastered 2,500 words. It includes 10 essays, talking about daily life, social life, and school life, etc. in smooth prose and with true feelings.
After reading this book, students can understand slightly complicated language materials on multiple topics used in different situations, pinpoint important facts and details, and grasp the structure of a text.
---
Friends, a series of Chinese graded readers, has the following characteristics:
Multicultural: Written by non-native Chinese speakers, this series combines the speakers' second language and the culture of their native language, removes the cultural barriers in reading, and develops readers' cross-cultural perspectives and communication skills.
Graded Reading: This series is divided into six levels, respectively corresponding to Levels 1-6 in the New HSK syllabus. Words or expressions not listed in the syllabus are provided with English explanations. A few exercises are designed after reading. The design of objective questions imitates that of the New HSK and the open-ended subjective questions focus on the development of readers' language expression skills and communication skills.
Listen and Read Anytime: This series is small in size and thus can be easily carried around. Each book comes along with an MP3 CD as well as online audio files for free downloading, enabling readers to make use of fragments of time to do listening and reading anytime.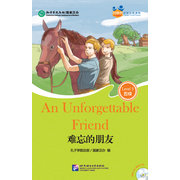 ---
You may also be interested in the following product(s)