Details
Author:Chen Xianchun
Medium:Books
ISBN: 9787561940235
Page Count: 101
Size:
Pub Date:2014-12
---
The series Graded Readers for Chinese Language Learners is composed of 50 books, divided into three subseries, namely folktales, literary stories and historical stories, corresponding to Levels 1-3 respectively. The rich and fun content and easy-to-understand language makes it easy for everyone, whether they are foreigners learning Chinese, children with parents of Chinese origin, ethnic minority students of the Chinese language, or even primary school students in China, to read this series. It enables the readers to gradually improve their Chinese reading skills and enhance their understanding of Chinese culture by reading and enjoying stories.
The "Folktales" subseries includes 10 stories, hence 10 books, adapted from folk legends, each book written in 20,000-30,000 Chinese characters. The titles of the 10 books are Hua Mulan, Lady White Snake, The Cow Herder and the Weaver Girl, A Golden Millet Dream, Chang'e Flying to the Moon, The Old Man under the Moon, The Butterfly Lovers, Nie Xiaoqian, Chen Shimei, and Beauty from the Painting.
In the book Lady White Snake, a man called Xu Xian saved a white snake in one of his former lives. Two thousand years had passed and the white snake cultivated itself into the form of a young lady and called herself Bai Suzhen. Bai Suzhen found Xu Xian in this life and they fell in love. To fight against the monk Fahai who tried every means to destroy her relation with Xu Xian, Bai Suzhen made a big mistake by drowning the Jinshan Temple. After giving birth to a son, she was put into prison under the Leifeng Pagoda.
---
"学汉语分级读物"丛书一共50本,包括民间故事、文学故事、历史故事三个系列,分别对应1、2、3级。本套读物内容丰富有趣,语言简单易懂,不论是学汉语的外国人、在国外的华人子女,还是学汉语的少数民族学生,甚至是国内的小学生,都可以轻松阅读。通过阅读,使读者在欣赏故事的同时,逐步提高汉语阅读能力,增进对中国文化的了解。
"民间故事"系列取材于中国的民间传说,一个故事一本书,每本2—3万字。本系列包括《花木兰》《白蛇传》《黄粱梦》《牛郎织女》《嫦娥奔月》《月下老人》《梁山伯与祝英台》《聂小倩》《陈世美》《画上的美人》10 本。
《白蛇传》讲述许仙前世救下了一条白蛇,两千多年后,这条白蛇经过修炼变成了一个年轻姑娘,名叫白素贞。白素贞找到了今世的许仙,两人相亲相爱,和尚法海却处处拦阻。白素贞水漫金山犯下大错,在她生下孩子后,被镇压在了杭州西子湖畔的雷峰塔之下.
---
丛书特点:
1. 严格的分级
本套分级读物以出现的汉字量为标准进行分级,共3级。第1级"民间故事",第2级"文学故事",第3级"历史故事"。三个级别分别适合掌握500字、800字和1200字的学习者阅读。
2. 有效的难度控制
在语言上,作者通过对生字量、生词及句子难度的控制,尽量简化语言,降低阅读的难度,并通过图画或文字的形式对生词进行注释,帮助理解,让学习者跨越阅读障碍。
3.有趣的故事,丰富的文化内涵
作者经过想象和构思,将原本简单的传说,写成了内容丰富、结构完整的有趣故事;并将中国的历史文化、民俗风情融入其中,使整个故事内容更加丰满。
4. 精美的插图
书中配有与内容相呼应的古典风格的精美插图,既能帮助学习者理解故事,也可以调节阅读节奏,减轻阅读压力,让读者轻松地享受阅读!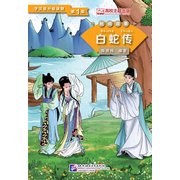 You may also be interested in the following product(s)