Details
Paperback: 162 pages
Publisher: Beijing Language & Culture University Press,China; 1 edition (Jun. 2014)
Language: English
ISBN-10: 7561938152
ISBN-13: 978-7561938157

---
Authorized by Hanban,HSK Standard Courseis developed under the joint efforts of Beijing Language and Culture University Press and Chinese Testing International (CTI). With HSK test papers as its primary source,HSK Standard Courseis characterized by a humorous style, familiar topics and a scientific course design. Matching the HSK test in all aspects, from the content, form to the levels, it is a series of new-type course books embodying the idea of "combining testing and teaching, and promoting learning and teaching by testing". It is suitable for the Confucius Institutes in different countries as well as other Chinese teaching institutions and self-taught learners.
The whole series is divided into six levels matching the HSK test, with one volume for each of Levels 1-3 and two volumes for each of Levels 4-6, totaling nine volumes. With a textbook, a workbook and a teacher's book in each volume, there are altogether 27 books.
This is Teacher's Book 3, with altogether 20 lessons. Each lesson includes a specification of the instructional contents and objectives, an elaboration of teaching steps, and a suggestion about teaching aids as well. It provides teachers with all-round guidance and effective support in regard to how to use the textbook and workbook of the corresponding level.
Combination of Testing and Teaching—The series covers 100% of the HSK Syllabus and is 100% consistent with the HSK test.
Scientific and Well-arranged—The grammar points are carefully divided and implicitly connected, and pronunciation and characters are taught in a step-by-step progressive manner.
Practical and Effective—The books provide genuine and practical materials and cultivate efficient learning strategies.
Natural and Humorous—Humorous sentences from the past tests reoccurred, and the styles of language and pictures match those of the HSK test
.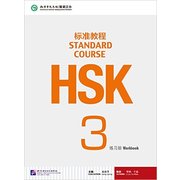 ---
You may also be interested in the following product(s)